DID YOU KNOW THAT THERE ARE
8 ENVIRONMENTALLY RELATED CONTRIBUTORS TO DEAL VALUE?
Of these, the humble Phase I ESA focuses on only one of these contributors: on-site pollution. Savvy investors, especially those intending to continue operating the purchased business, can expand their environmental due diligence to identify both liabilities and assets that can be used to maximize ROI.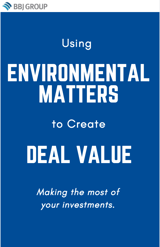 Using Environmental Matters to Create Deal Value provides an outline of how to uncover hidden deal value with case examples that relate to:
REIT, institutional, and private investment


Industrial mergers and acquisitions


Environmental reserve management



Property development
Download your copy of Using Environmental Matters to Create Deal Value and learn how to maximize your ROI and profitability.