It's never too early to start planning for annual compliance deadlines. Mark your calendar with the following dates:
March 1 National Biennial RCRA (Resource Conservation and Recovery Act) Hazardous Waste Report
March 1 Emergency Planning and Community Right-to-Know Act of 1986 (EPCRA) Tier II Reporting
March 31 Greenhouse Gas Reporting Program
July 1 Toxic Release Inventory (TRI) Reporting

Biennial Reporting: Do I Need to Report?
Biennial RCRA Hazardous Waste reporting is required under federal regulations for large quantity generators (LGQ), which must be submitted every two years. A facility is identified as a LQG, and therefore subject to the reporting requirements, if one of the following criteria is met:
The facility generated, in any single calendar month, 1,000 kg (2,200 lbs) or more of RCRA hazardous waste; or
The site generated, in any single calendar month, or accumulated at any time, more than 1 kg (2.2 lbs) of RCRA acute hazardous waste; or
The site generated, in any single calendar month, or accumulated at any time, more than 100 kg (220 lbs) of spill clean-up material contaminated with RCRA acute hazardous waste.
The Biennial Report must be submitted to the appropriate state agency or EPA regional office. If this is your first year as a hazardous waste generator, one of the most important steps is to investigate your state agency requirements. Per the EPA, small quantity generators and very small quantity generators of hazardous waste are not required to submit biennial reports; however, they may be subject to state-specific reporting requirements.
Air permitting is another good example of federal requirements that are executed under state authority, which allows for deadlines and requirements to vary from state to state. This is the time to review any permits for individual reporting and renewal requirements. Checking to ensure your corporate compliance calendar is up to date will help avoid late fees or missed obligations.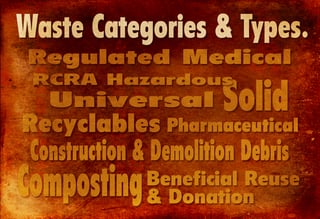 Reporting Made Easy: Online Web Tools
As technology advances, reporting tools evolve as well. Electronic reporting options are often more favorable for the near instant transfer of information and automatic acknowledgement of submission or errors. Many states now utilize the online E-Plan system for EPCRA Tier II reporting, and the EPA uses e-GGRT for Greenhouse Gas Reporting, and TRI-MEweb for TRI reporting. Staying up to date with reporting tools and technology is just as important as staying up to date on the regulations.
Some agencies still do not have the capacity to make the leap into the digital age, but electronic correspondence and web tools are quickly becoming the preferred method for many industries. Save time and resources by double checking for alternative submission options available for your annual reporting.