Written by Audrey LaRoche, who work's in BBJ Group's Grand Rapids, Michigan office
It seems like something straight out of a horror movie, or Animal Planet's version of the Walking Dead. On October 19, 2018, the Michigan departments of Health and Human Services (DHHS) and Natural Resources (DNR) issued a "Do Not Eat" advisory for deer taken within five miles of Clark's Marsh. A deer shot near the area had 547 parts per billion (ppb) of perfluoroalkyl substances (PFAS) in its muscle tissue, almost twice the Michigan Department of Environmental Quality action level of 300 ppb.
It was issued in conjunction with a violation letter to Wurtsmith Air Force Base, which regulators allege is impacting Michigan lakes and marshes with PFAS/PFOS at unacceptable levels. The advisory is a first of its kind for terrestrial animals in Michigan. The Air Force base has already been attempting to remediate these impacts, but a violation letter issued after the contaminated deer was found requires them to increase the throughput of their pump and treat system and increase the plume capture zones. The Michigan Department of Environmental Quality indicated that monitoring well and surface water samples from Clark's Marsh show high PFOS levels. Water samples collected from the groundwater and marsh areas were above regulatory limits.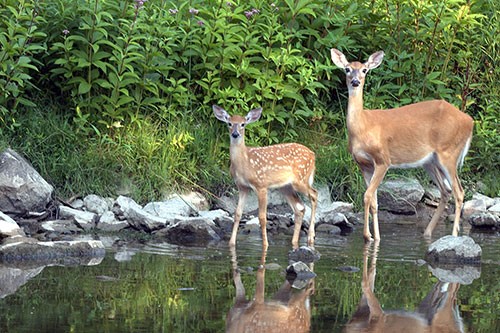 What are PFAS and PFOS?
PFAS encompasses a range of manmade chemicals, which also encompass other chemicals, such as perfluorooctane sulfonate (PFOS). PFAS compounds came into common use in the 1950s and '60s and are now used in hundreds of industrial processes and consumer products. Resistant to heat, water and oil, the compounds can be found in nonstick cookware, grease-resistant paper, fast-food wrappers, microwave popcorn bags, stain-resistant carpets and fabrics, water-resistant clothing, cleaning products and personal care products.
PFAS are also used in industrial processes and, notably, in firefighting foams. PFAS are a component of many of the firefighting foams used by the military, airport authorities and local fire and rescue agencies.
Based on BBJ Group's experience while sampling groundwater for PFAS, several challenges can arrive because of the prevalence of compounds found in consumer products. We have conducted well sampling in Western Michigan for PFAS/PFOS that included several guidelines such as no waterproof clothing or boots, use of laboratory supplied containers, which include a Teflon-lined cap and restrictions against Sharpies.
This isn't the first case of a PFAS "Do Not Eat" advisory set for Oscoda County; however, it is the first one for land animals. Clark's Marsh and the Au Sable River south of the Wurtsmith Air Force Base are already under a "Do Not Eat" advisory for fish species because of the contamination of PFAS.
Bottom line, it's bad news for Sasquatch, who, unfortunately, will not have deer on the Thanksgiving menu this year.